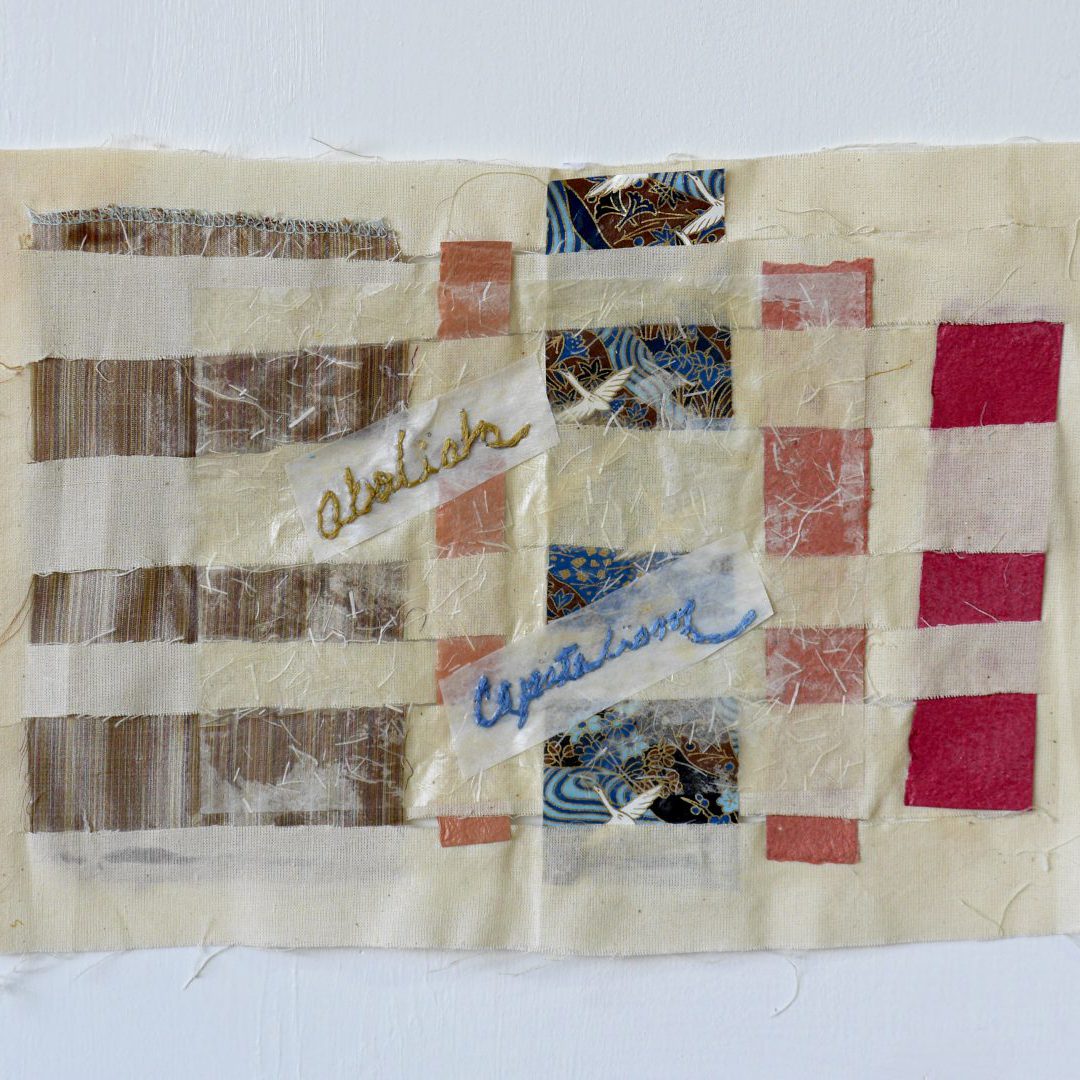 JEN BERGER // Burlington, Vermont, USA
I had the pleasure of participating in a participatory art project with Kathleen Vaughan, Professor of Art Education at Concordia University in Montreal. The questions "What is art for? What does art mean to you in this time of pandemic and direct social action?" were central to the creation of my piece. In the mail, I received a kit. There was a purple dual envelope folder with paperwork on one side, two copies of a contract, and an instruction sheet. And on the right, a pile of material with an embroidery needle in a flap of magenta fabric. The materials I received were fabric and Japanese paper, in muted neutral tones, with blue accents, and some hints of a bold salmon. The embroidery thread I received was sand color and a colonial blue. I enjoyed the complexity and simplicity of each piece together and alone. I re-read the instructions before I began, and there was the option for 'whatever you want'. At that moment, that gave me too many options, and I realized that the structure of working with the materials was something I craved for, and didn't know it. Having someone else give me direction is not something I come across often and it was a welcomed change. I went with the confines of what was sent in the mail. And, even within that, it wasn't confining at all, there were so many options. I chose to weave my materials together. One, I wanted to find a way to use all, or most, of the material, and to keep the size to the allotted 10"x13". The colors were beautiful together. Not a color palette I use on my own. I wanted to use both paper and material. And it felt, on some level, of how COVID can feel. Isolating, yet together, even though we can't see the whole. Beautiful and also scary.
Before I started to make any cuts, I revisited the question that I was asked to think about while making this piece. "What is art for?" To me, it's so many things. The irony is that my students are all writing 5-page papers, as I write, to present this week, on the exact same topic, and I know there is no single answer. "What is art for?" Well, for me, right now, it's about expression, education, messaging, connecting, and always about making something in the world to make it a little more just. One thing I started to do during the early weeks of COVID, as I was getting all of my socializing and entertainment on the internet, was embroidery. I have a bunch of old vintage napkins, and other fabric, and a ton of embroidery thread, so I started to make simple images with the thread. As the world became more overtly politicized, so did my embroidery. I was watching an interview with Angela Davis, and in talking about abolishing the police, she said we also need to abolish capitalism. YES, I thought. This, this is the root here. This is how we find our souls again. And I put that on a napkin, feeling joyful and smug. As I made this piece, I thought about how beautiful the material and papers were together, but it was missing the justice aspect. I tried something new and began to embroider on a piece of paper. I wrote "abolish capitalism" in both of the thread colors, and adhered it to the larger piece. I enjoyed the way it kind of blended in until you read the actual words. I imagined that if I saw that piece, I would smile, and then I would think about it for the rest of the day. And I guess, that is mostly what I hope art does, is make us think.