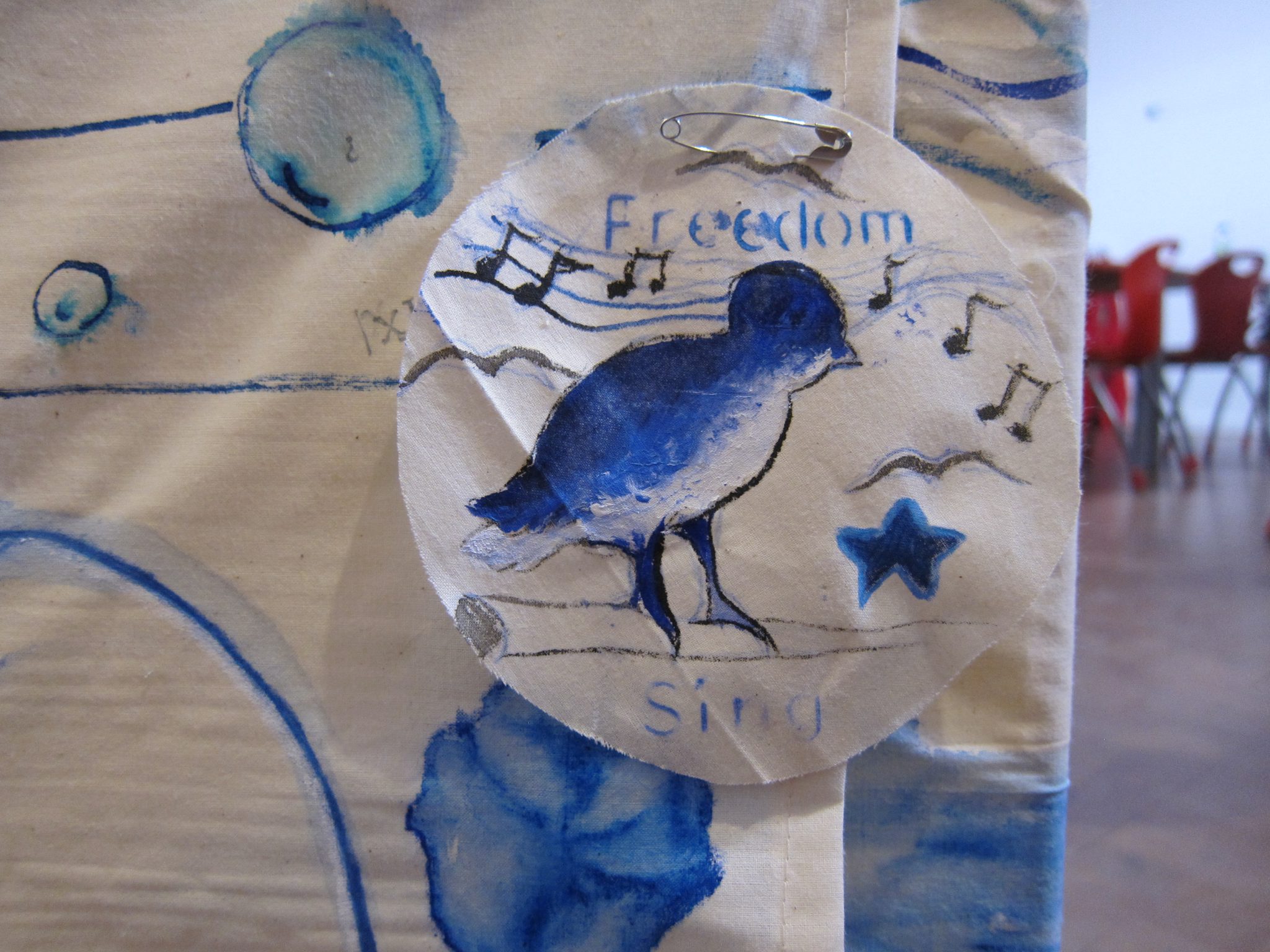 Working with cultural institutions in Montreal and elsewhere, Studio Re-Imagine explores the how art can take up resonant social issues — such as peace — often through participatory art-making.
This strand of practice and research began with Nuit Blanche at the Museum, a special intensive Concordia University graduate course through which students created a peace-themed intervention in the Hornstein collection of the Montreal Museum of Fine Arts. The intervention had three parts. First, students offered small groups of visitors four short, in-depth 'flash tours' of selected Baroque and Romantic paintings, considering the historical works through the lens of peace. A common element of all the artworks profiled was 'a patch of blue sky' — interpreted as a wish for peace in dark or challenging times. Next, visitors came together to create a collaborative "Peace Kite," which they decorated with images and texts inspired by their gallery visit and personal experience. Finally, participants were interviewed and audiotaped reflecting on the presence and role of peace in the museum. Their comments formed the basis of the first audio guide created for the Montreal Museum of Fine Arts' new Pavilion for Peace.
The Audio Guide or "Peace Trail" Project was proposed and developed by Kathleen Vaughan as a component of Concordia University's partnership with the Montreal Museum of Fine Arts. Working with Vaughan and audio artist/engineer Phil Lichti, students created two audio guides that consider how 'peace' lives in the museum: Four Artworks in Search of Peace | Quatre oeuvres en quête de paix and Six tales of peace (and war) | Six histoires de paix (et guerre). The audio guides are available for download in both English and French.  Launched in 2017, the guides will be evaluated through a research study that investigates the role of storytelling and audio content  in engagement with concepts of peace.
Black and Light / Noir éclair is a project-based research study that examines the transformative possibilities of participatory practices as linked to the permanent and temporary exhibitions of the Montreal Museum of Fine Arts and DHC ART. The study will work with participants to explore how  collaborative art-making and engaged discussion can support longer term personal change. At DHC Art, the exhibition of Slovenian artist Jasmina Cibic will be the spark for participatory engagement, while at the MMFA, will use art to explore the resonances of the 'black' installation on the first floor of the Pavilion for Peace.