Walk in the Water: The Audio Guide is a 60-minute audio exploration of Montrealer's relationship with the St. Lawrence River, with specific reference to the much-changed and now inaccessible shoreline of the city's post-industrial neighbourhood of Pointe-St-Charles.
Extended over two centuries by up to a kilometre with infill from urban mega-projects, local industrial waste, and even the buried residues of the City's one-time garbage dump, this shoreline is emblematic of ways that people have abused and neglected urban rivers. Now, thankfully, a new era is at hand, as we begin to show rivers and their creatures the care and respect they deserve. The project explores this shoreline's pasts and potential futures and invites the listener to get involved.
Since the current water's edge is inaccessible behind railways and highways, the audio guide invites the listener to stop at three spots along the route of the 1801 shoreline (local map here) or to listen from any other spot: whether comfortably at home or safely on the move alongside a favourite urban river elsewhere.
Walk in the Water: The Audio Guide can also be heard in three parts, sited at different locations in Pointe-St-Charles (or the listener's imagination):
Walk in the Water: The Audio Guide is a companion piece to the interactive 'talking textile' visual artwork of the same name, and was conceived, written and narrated by Kathleen Vaughan, with sound design and engineering by Marie-Josée Archambault, and features interviews with engaged Pointe-St-Charles stakeholders and St. Lawrence River experts, as well as the voice of the River itself.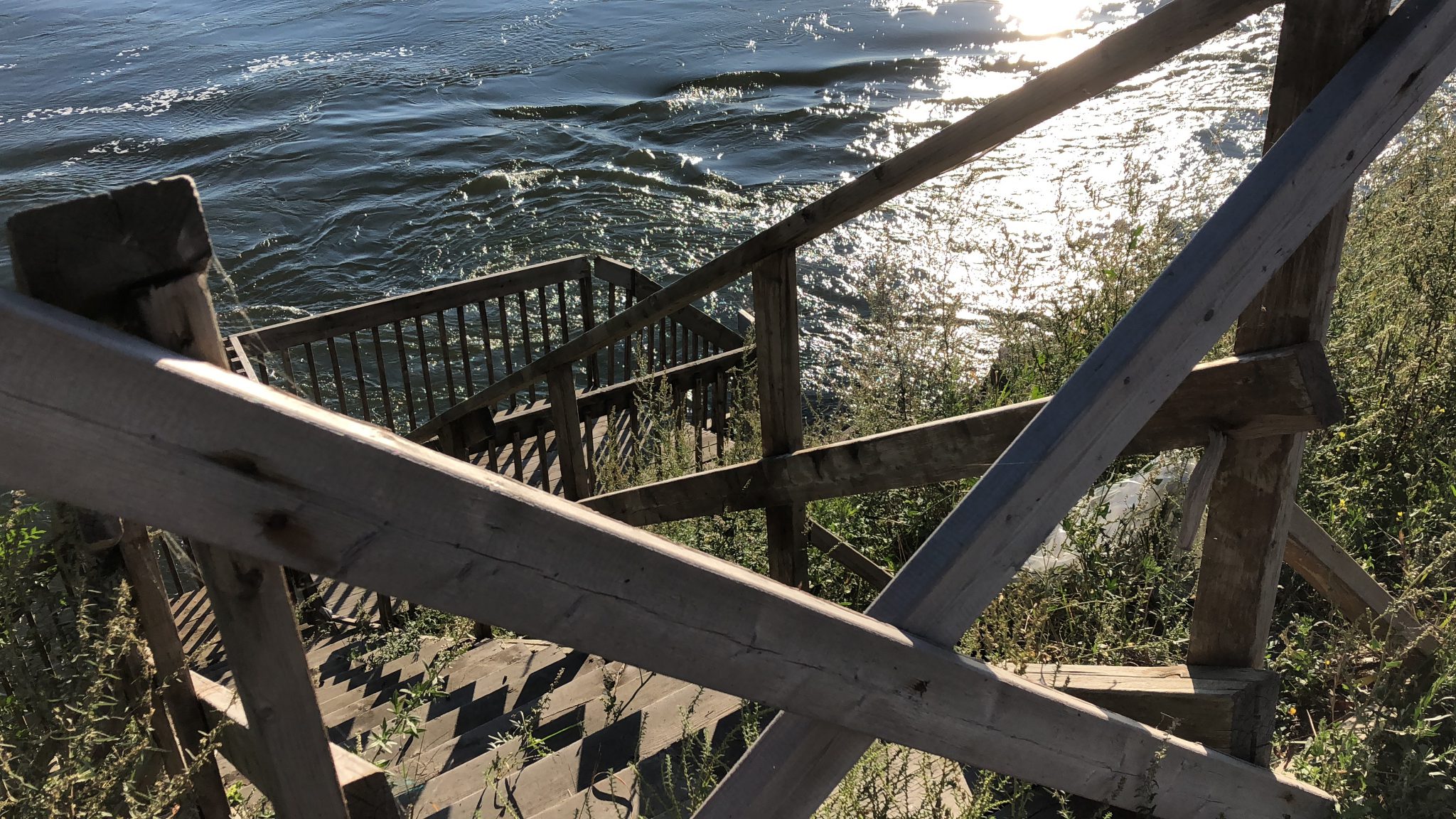 Special thanks for permission to and acknowledgement for use of sound effects:
Attribution license
"Splash, Jumping, A.wav" by InspectorJ (www.jshaw.co.uk) of Freesound.org
Attribution Noncommercial License
"Pool_summer_sounds_kids frolicking.wav" by Scott Snailham (http://www.cheezepleeze.com/) of Freesound.org
"Beaver eating.wav", Tim Kahn (http://www.facebook.com/corsica.ess) of Freesound.org
"WalkMedDryGrass.wav", by UATaudio (www.uat.edu) of Freesound.org
Sounds used from Cornell :
Bob McGuire/Macaulay Library at the Cornell Lab (ML Audio 229043)
Geoffrey A. Keller/Macaulay Library at the Cornell Lab (ML Audio 120298)
Gregory Budney/Macaulay Library at the Cornell Lab (ML Audio 204475 )
Oliver H. Hewitt/Macaulay Library at the Cornell Lab (ML Audio 36967 )
Richard Nelson/Macaulay Library at the Cornell Lab (ML Audio 193589)
Wil Hershberger/Macaulay Library at the Cornell Lab (ML Audio 94251)
Wil Hershberger/Macaulay Library at the Cornell Lab (ML Audio 84698)
Wil Hershberger/Macaulay Library at the Cornell Lab (ML Audio 94447)